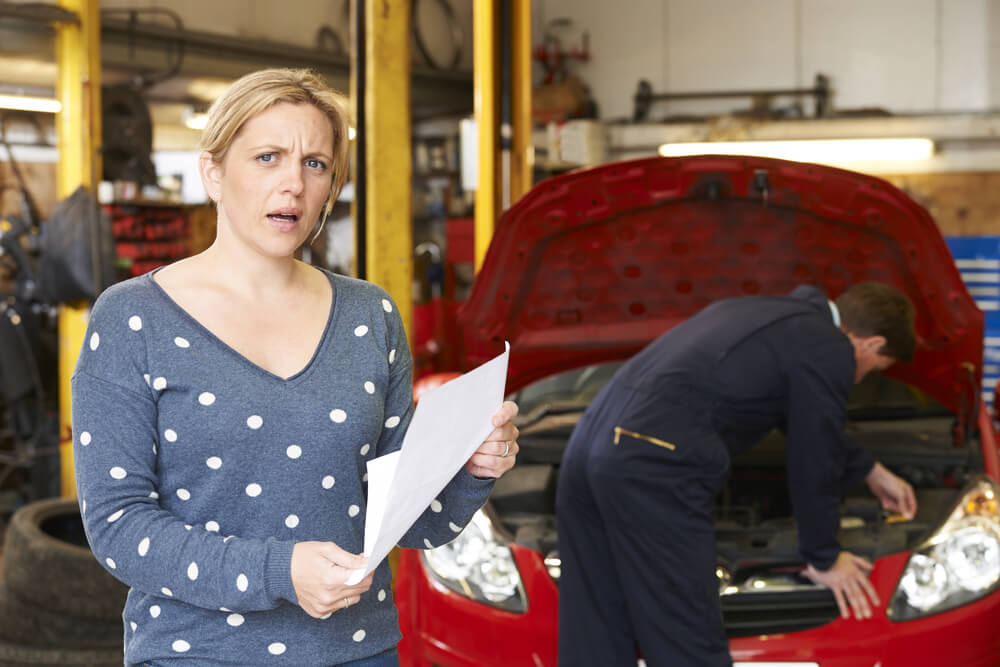 How to Pay for Car Repairs with No Money
Are you short on money? Use a personal loan to pay for the car repairs you need today. This article will explain why getting a personal loan to pay for a car repair can take some of the weight off unexpected and prohibitive costs.
The cost of car ownership
The cost of owning a car can be restrictive, and many hard-working families may, at times, turn to personal loans to afford unexpected car repairs.
You pay for the car, gas, repairs, oil changes, insurance: by the time you get to the broken taillight or squeaky breaks, there is little funds available leftover.
But as any family knows, life without a car is nearly impossible. How else will you get the kids to school and soccer practice, never mind getting to work, doing the groceries, and visiting grandma.
Sometimes you have no choice but to swallow the cost. But a loan can relieve some of that pressure, and luckily there are tons of options when it comes to lenders and the options they can provide.
How to pay for car repairs with no money
If you don't have enough money to pay for your car repairs, there are a few things you can do. Perhaps you know someone who works on cars for a living and can give you a discount.
If your car needs a new part, that can add to the cost significantly, especially if it's a high-tech component.
Even a routine part like a headlight, fender, or trunk lid can be prohibitively expensive. And these are often the most common parts that need replacing or repair.
Request car repair loans today
There are plenty of options for car repair financing. These include the following:
Traditional bank loans
Lending networks
Community lenders
Credit cards
Loans from friends or family
Employer or paycheck loans
Personal loans from a reputable lender
Also, check with the dealership you bought your car from. They might extend you loans for auto repairs.
Options for car repair financing
Your creditworthiness determines your financing options to a large extent. Check out places like annualcreditreport.com to learn more about your credit rating.
Let's look at some of these different loans in detail to know what you're getting into.
Personal loan
You can use a personal loan for anything, but it's handy for auto repair. A personal loan secured by your car is sometimes referred to as an "auto equity loan."
But the majority of personal loans are not "secured." We call these unsecured loans. While the lowest interest rates are only available to the most creditworthy customers, it is possible to get a personal loan even if your credit isn't the greatest or if you have no credit at all.
If a no-credit-check loan will be used for auto repairs, it's often called an installment loan.
Auto equity loan
Is your car paid off in full? Do you need to finance a repair? One thing you can do is take out a no-credit-check title loan.
No-credit-check title loans are secured by your vehicle's title (hence the name) and must be repaid relatively quickly.
But title loans can be risky and should only be used as a last resort. One in five borrowers of title loans had their cars repossessed because they couldn't repay their loans.
A personal loan is a much better option and doesn't come with 3x the interest rates.
Payday loan
Similar to the above, a Payday loan is usually for a small amount, has to be paid back fast, and comes with zero credit check.
These loans are intended to be paid back from your next paystub. Payday loans get rolled over for some people, which can be the first stop on a cycle of mounting debt.
For people looking to repair their cars with poor credit histories or no credit records, instalment loans are a much better option.
Credit card
Do you have a credit card? Credit cards are an often-overlooked option to funding necessary vehicle repairs. But it should be considered a last resort.
Ask your credit card company if you can have a higher limit for the purposes of auto repair. If your credit is at least above 580, that might qualify you for an increase in credit.
Alternatively, you can consider applying for a new CC with a 0% introductory APR, meaning no interest until the intro period ends.
Mechanic financing
Some car repair locations work with loan providers to directly offer their customers payment plans at the repair shop.
Sometimes these come with discounts, and they are often interest-free for a short time, though this depends greatly on the repair shop and who they work with.
Ask your auto mechanic for information on their payment packages. Read all the contract details and terms, so you fully understand what you're getting into.
Car repair financing
If you are repairing a car close to the end of its life, it sometimes isn't even worth spending the money to keep it running.
Sometimes the repair is going to cost more than the value of the car itself. In that case, you should probably consider whether now's the time to get a new car.
Applying for a personal loan is accessible regardless of your credit, income, or employment status. All the personal loan agent will need is a few pieces of information for certification purposes and just a few moments of your time to complete the application.
You'll be surprised by how quickly you can get access to cash with a personal loan. Get money in as little as one day!
It can take a long time for banks or credit unions to approve customers with the funds they need. And sometimes you don't have the luxury of time. You need that car fixed ASAP.
Using a personal loan for car repair financing is a fast, convenient, and intelligent option.
How can a personal loan help with car repairs?
Personal loans are an often-underused tool for getting people out of tight financial sports. Say you were in an accident and, you are fine, but your car is wrecked. And it wasn't insured…
Even with an insured vehicle, you might face expenses that only a personal loan, expeditiously provided, can cover.
It's a good idea to get collision insurance coverage. But not every car owner has it because not every car owner can afford it.
The same can be said of other things like extended warranties or savings. On paper, yes, they are the best things to have. But not everyone has the means to acquire comprehensive coverage options.
That's where a personal loan comes in handy. Auto repair emergencies are among the most significant financial emergencies faced by working-class families, people who depend on their cars for their daily living.
Your life shouldn't stop because your car won't start
Stranded families shouldn't have to stop their lives because their car broke down.
Three-quarters of American workers drive to work, and nearly ten percent drive in a carpool with friends or coworkers. It's no wonder that stranded families rank fixing a broken or damaged vehicle their number one priority.
Additionally, many individuals live in places where there are no good public transportation options. Buses and subway services are limited if they exist at all.
For these people, a car is not a luxury but a necessity. How else can they get around?
Different types of car loans: secured and unsecured
Car loans can be unsecured, or they can be secured.
Typically, secured loans are based on car equity. There are a few companies that are specialists in providing customers with low-interest auto repair loans. Typically, these types of loans require a security, like the title to your car.
Companies like this offer financing over three, five, or seven years. To get optimal financing like this, you will need a lien.
However, most people prefer the second type of loan: the unsecured personal loan.
In fact, this is one of the most common methods of financing auto repairs in the last few years. And that's because these loans are simple, short-term, and you don't need a lien or security to get one. They are as democratic as they come.
Secure vs. unsecured: which is better?
The answer to this depends on your credit history.
If you have good credit, you can qualify for unsecured loans. Fair credit can often receive unsecured loans as well, so if you are averse to a bit of risk, this is often the best path.
Why? Unsecured loans do not come with the risk that your vehicle will be seized should you fail to repay.
Unsecured loans, however, come with higher interest rates and often those with bad credit histories or no credit histories at all find it hard to qualify for loans without security.
Financing auto repairs with a bad credit rating
If you have bad credit, don't worry, you can still qualify for a cash loan today. Personal loans are perfect for individuals who have no credit rating or a bad one.
People with poor credit can find it almost impossible to receive a bank loan. And it's true, when you want to purchase a car it's a good idea to get a loan either financed through the dealership, bank, GMAC, or credit union. They'll give you the best interest rates.
But for emergency car repair or an auto repair loan on bad credit, a personal loan from a reputable lender can be just the ticket.
There are hundreds of different small personal loan lenders that you can easily use to finance car repairs. There are plenty of lenders who will still give cash loans with no credit check as well.
If your car is damaged beyond what's reasonable to pay in repair costs, then you'll have to decide whether to get a new vehicle or get a personal loan to pay for the repairs.
Tips for getting a personal loan for auto repair
If you choose the personal loan route, here are a few tips for finding the one that's right for you.
Look around
When it comes to both repairing your car and getting a loan, it's essential to shop around, know the market, and research what costs you will incur and why.
Before you pay for a replacement part, look at a place like the Kelley Blue Book to find the value of the part that needs replacing. This way, you can ensure your getting the best deal on your repair.
Know your credit rating
Borrowers will likely need to know their credit rating when applying for auto repair loans. Even if you have a bad credit rating, it's a good idea to know what it is and what it means you are entitled to.
The more a person knows about their credit history, the more prepared they are when finding the right loan. And if you familiarize yourself with this information beforehand, you can save yourself a lot of trouble after the fact.
Prequalify when you can
Did you know that your credit score can actually go down if you apply for a loan, and that makes its way to the credit bureau? Getting a prequalification for an auto-repair loan can be a valuable tip to know.
Prequalification's usually don't affect your credit scores. Usually, you can do this at subprime private lenders. You certainly won't be able to prequalify with lousy credit at banks and credit unions.
Say no to extra services
You should say no to loan providers who will only approve your loan if you pay for extra services. That's a big red flag.
Make payments on car repairs
Right now, because the market has dropped significantly in the past few years, there is less interest in long-term car loans. Lenders are responding to this by tightening the credit requirements on long-term loans.
This means that the average buyer's credit score is higher than ever, and people with bad credit should explore repair and restoration options instead of trading vehicles in and buying new ones.
Personal loans allow you to pay your mechanic with even no money. It's the responsible thing to do. You shouldn't be driving around with a dangerous, shoddy repair job done by someone you could merely 'afford.'
Even a struggling family living from paycheck to paycheck will be able to meet the qualification requirements of a personal loan.