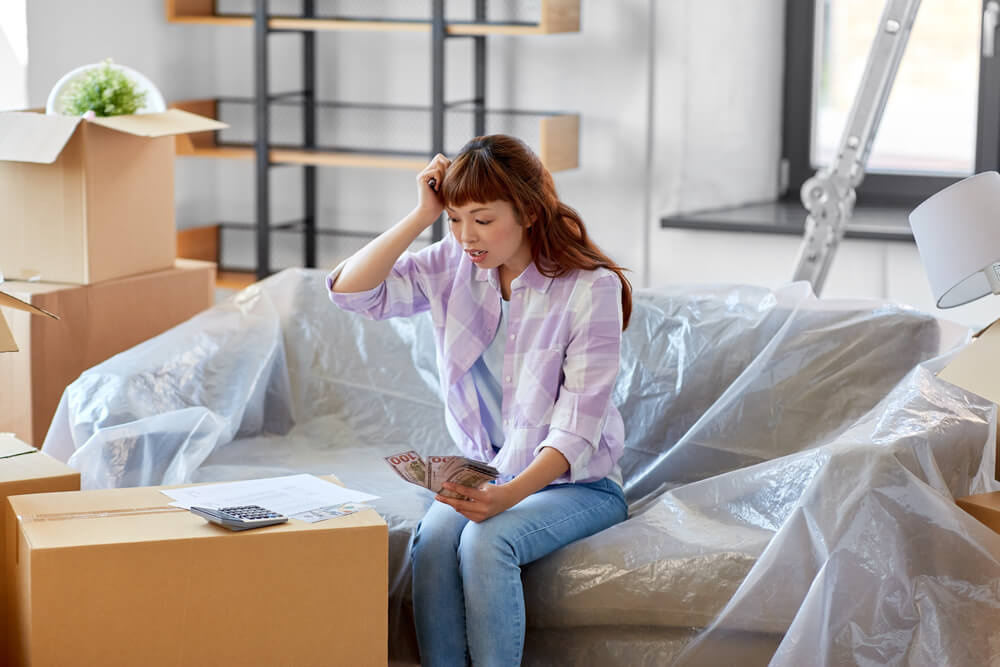 Moving Costs Adding Up? Ways to Use a Personal Loan to Help!
The COVID-19 pandemic has sparked a great migration between states recently. While reasons for moving vary, all individuals who find themselves in this position will also find themselves incurring moving costs. Personal loans are a great way to fund your move fast without stretching or breaking your current budget.
The costs of moving vary greatly depending on the distance of the move, the state of origin and destination, how many possessions you have, and your housing setup. Today we'll dive into the exact costs of moving, including some real-world expense examples. Finally, we'll explain how to use loans for moving costs to face these financial hurdles head-on.
Why are People are Moving?
Around 40 million Americans move annually, encompassing a wide variety of reasons why. When the COVID-19 pandemic sparked in 2020, these reasons became more specific.
During COVID-19 migrations, more than ¼ of the moves were attributed to moving closer to family. Others moved because of a change in work obligations.
Other general reasons for relocating include retirement, starting a family, attending college, or buying a home.
Where Are People Moving?
During the pandemic, trends were noticed of people moving out of states with higher costs of living towards states with lower costs. With employment instability and health concerns, most of the migration included people moving south or west.
Although exacerbated during the pandemic, this trend is not new. The move west and south has been a prevalent pattern over the last few years in the U.S.
Top states with inbound moves include Idaho, Arizona, South Carolina, Oregon, Florida, and South Dakota.
Typical Costs Associated with Moving
No matter where you relocate to, there are some moving costs you're bound to face. From packing up your things to getting them where they need to go, moving is no cheap move (pun intended).
You may be able to wiggle your way out of some of the expenses, but the decision is yours to make around all the typical costs associated with moving below.
Moving Supplies
As much as we wish you could snap your fingers and teleport your things cross-country, you can't. To ensure your things arrive safely, you'll need the basic moving supplies: boxes, tape, packing paper and peanuts, moving blankets, etc.
New moving boxes can range in price from $1-$14 and up. Online calculators can help you figure out how many boxes you'll need.
For those looking to lower these costs, you could check online for second-hand moving supplies at a lower rate or even for free.
If you're planning to hire a moving company, compare prices and check if their estimates include packing supplies.
Furniture
Moving houses or apartments may require an adjustment in your furniture. If you're going to a bigger space, you're sure to find that you'll need additional drawers, dressers, tables, chairs, etc.
In many cases, people find that they would like to replace old or worn-down furniture to start fresh in their new home.
Moving from a furnished to an unfurnished home is another situation that will bring about more furniture expenses.
Thinking about moving that 500-pound wardrobe on your own? Think again before you throw out your back; furniture is also something that may require you to hire help. Even if you hire a moving company, keep an eye out for heavy item surcharges for specific pieces of furniture.
Keep all these things in mind when packing up for your move.
Hiring a Truck/Container
You've finally packed up your life's belongings and you're ready to move. Now, the next question: How will you get there? Many people opt to rent out a truck or haul a container themselves to their destination.
While these options are cheaper than hiring a moving company, you'll make up for it in sweat and manual labor. This is a great option if you have a close group of friends or family who are willing to help you out in exchange for a drink and lunch.
Hiring a truck or container will cost you depending on distance, and you'll also have to factor in expenses like gas and tolls.
Hiring Professionals
The alternative to lugging your things across state lines would be to hire a company to do the job for you. There are many reputable moving companies across the U.S., but reliability comes with a fee. Depending on if your move is local or long-distance, those fees will vary.
Most moving companies charge between $25-$50 per hour for services. If possible, try to confirm a fixed bid for the job, as opposed to an hourly rate which may cost you a lot more. Ask about additional fees, such as surcharges for heavy objects, elevator fees, etc.
Some companies are "full-service movers". This service costs more but lightens your load, even including professional packers to pack your things for you.
Note that all moving professionals are usually tipped after a job well done, so account for this as part of your movers' payment as well.
Costs Upon Arrival
Many people wrongfully assume that their moving costs finish as soon as their boxes are in their new home. Unexpectedly, settling into your new home comes with its own set of moving costs to consider.
Before or after move-in, you may be faced with painting costs in your new home. You'll rightfully want everything in order before getting settled in, which means paying up for paint or a painter to do so.
New tenants or homeowners may also find mishaps they didn't notice when signing for the new home, leading to certain home repairs upon moving in.
Cleaning Up
When leaving a home or moving into a new one, you'll drag in quite a bit of dust. Be ready to shell out a few bucks on either a large set of cleaning products or a professional cleaner to leave everything looking good as new.
Vehicle Registration
When moving to a new place, particularly if relocating states, you'll have to re-register your vehicle and take out a new license. There are varying fees in each state for these procedures, so make sure to research them to avoid any surprises at the DMV.
Building Fees
If you're moving into a gated community or an apartment, take note of certain building fees that may apply to you upon move-in. These could include closing prices and sign-up fees for the community's cable or internet plans.
If you're moving into an independent home, you'll still need to be aware of utility deposits that may be required to get your electricity and gas up and running. You can't move into your new place in the dark, so try to sort this out before arrival.
Groceries
While food is a consistent bill in everyone's life, your receipt will be a bit higher for the first few grocery runs after moving into a new place. This is usually because most people don't unpack their kitchen items and start cooking right away.
The unpacking process can be grueling, so plan for a few take-out meals to ease the pain meanwhile.
Landscaping
Whether you're paying a communal fee for landscaping or contracting out on your own, the grass must be cut eventually. Some towns will fine tenants or homeowners for unkempt lawns, so be prepared to invest in your own mowing gear or call a few landscaping companies for estimates in your area.
Example Moving Scenario
Moves can range in price anywhere from a couple of hundred dollars to a few thousand depending on location and method. Let's look at a few examples.
Moving from New York City to Miami will cost you anywhere between $3,000-$6,000, depending on the number of items being moved and whether full service is required or not.
Moving from San Francisco to Phoenix will run you between $2,500-$4,000 depending on the exact size, timing, and route.
The lower end includes renting a truck or container while the higher end comes with the bells and whistles of a moving company.
How a Personal Loan Can Help Moving Costs
Moving packs enough stress on its own and you don't need the additional worry of how you will foot the bill. The important goal here is to get all your belongings moved safely and efficiently into your new home.
Whether you've decided to pack up on your own and drive yourself to your destination or hire professionals to ensure your move is done right, a personal loan can help guarantee that your moving costs are paid for up-front.
Instead of dipping into your emergency fund or drying out your savings, consider taking out a personal loan to ease the stress of your move.
What Is a Personal Loan?
A personal loan is a varying amount of money you can borrow for a specific purpose. People use personal loans for a wide variety of reasons, and moving costs are one of them.
Personal loans are offered by different lenders, such as banks, independent organizations, and credit unions.
You will repay a personal loan in monthly payments, which is why they are also referred to as installment loans. This means you can break down your repayment over a set number of months without worrying about repaying it immediately.
As with most credit, personal loans come with interest rates and certain fees depending on your situation and the lender.
Who Can Obtain Personal Loans?
There are different types of personal loans which make them generally accessible to most people. From low credit scores to excellent credit histories, there is a personal loan option for almost everyone.
You must be a legal adult to obtain a personal loan on your own, and each lender has its own set of requirements. If you are moving and have a stable income or general assets like a vehicle or savings, you are more than likely to qualify for a personal loan to offset your moving costs.
Types of Personal Loans
There are many types of personal loans, but the two main ones you'll run into are secured and unsecured loans.
Secured Loans
Secured loans are installment loans that take collateral in case monthly payments are not made. This collateral could include your car or other assets, such as your savings or a Certificate of Deposit (CD).
Secured loans are offered with lower interest rates since they are less risky for the lender. They also tend to be more flexible when it comes to the borrower's credit score or history.
Unsecured Loans
As with most personal loans, unsecured loans are also paid back monthly over time. Unlike secured loans, lenders require better credit for this type of loan eligibility, typically beginning in the 600 range.
Unsecured loans do not require any form of collateral or co-signing. If you have a better credit history but few assets in your name, unsecured loans may be an excellent option for you.
Personal Loan Example
Let's say you're sitting in our example above and are moving from New York City to Miami. You receive a quote from a reliable moving company and add it to your expected expenses upon arrival at your new home. You decide you need an extra $5,000 to cover your moving costs.
Your credit score qualifies you for a personal loan at a reputable lender with an interest rate of 6% over 36 months. You receive the personal loan that same week and move safely and efficiently to Miami.
You will then pay back the loan through small monthly payments of $152 per month over the 36 months – that seems much more doable than shelling out $5,000 in one month!
Conclusion
Moving includes packing, shipping, clean-up, and manual labor. These moving costs can add up and bring in a big bill by the end of your move.
To face this expense and move with confidence, personal loans can help. A personal loan can give you anywhere from a few hundred dollars to a few thousand to help with your moving costs. The low monthly payments for personal loans are an affordable way to meet your moving deadline while protecting your bank account in the meantime.