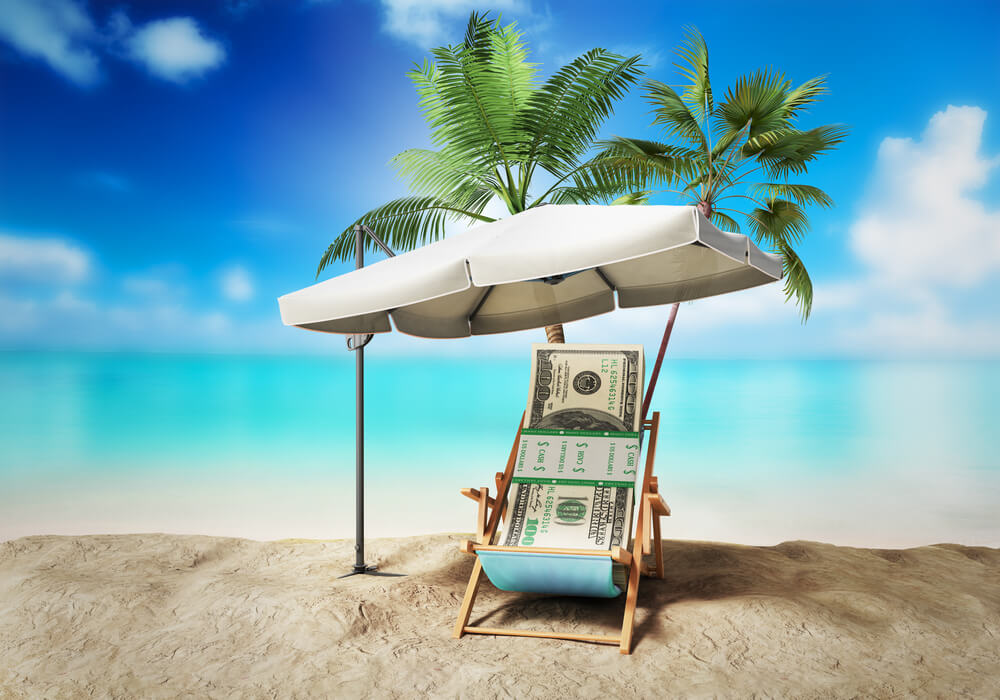 Pros and Cons: Taking out a Personal Loan for Vacation
Family vacations are an important part of relaxing, resetting, and strengthening familial relationships. If you're on a tight budget you may not have the wiggle room to pay for your family vacation upfront; taking out a personal loan for vacation may be a way to secure this special time with your family.
Family trips are important for creating memories that will last a lifetime. On many occasions, they also come at the opportune time for everyone to destress, relax, and reset. Parents and children alike need time away from their responsibilities and daily hustle to enjoy one another's presence care-free, and family vacations are where they can do so.
Before deciding if a personal loan is your solution to booking that family trip, all pros and cons must be considered. Today we will dive into the pros and cons of taking out personal loans for vacation, how to know if you should obtain a personal loan, the details of securing this loan, and additional ways to help finance a family vacation.
What Is a Vacation Loan?
As travel options abound once more, the lure of a new destination is in the air. Family vacations are not only ideal for exploring new ground, but also for building relationships within the family unit far into the future.
To pay for this travel you may take out a personal loan, referred to as a vacation loan in this situation. Vacation loans typically don't require collateral, as most of them are unsecured loans.
Vacation loans include all personal loans, as you use the funds to pay for expenses related to your trip. These expenses include lodging, airfare, rental cars, food during the trip, etc.
Pros of Personal Loans for Vacation
When considering if you should take out a personal loan for a vacation, the positive aspects will jump out at you first. Let's take a look at everything from the obvious pros to the discreet bonuses for personal loans for vacation.
Quality Time with Your Family, Now
The apparent positive of getting a personal loan for your family vacation would be the vacation, of course!
Time is of the essence and any parent will tell you how quickly kids seem to grow up and leave the nest. With a personal loan, you won't have to wait another year or cut corners to make the trip happen.
You will be able to purchase your trip immediately and pay it back in small monthly installments once you have returned from your relaxing vacation. Your family will be excited and ready to explore a new environment together, making fond memories along the way.
Simple Application Process
Personal loan applications are often shorter and more direct than other types of loans. If you have generally good credit, the process could be even more streamlined. Some applications could be completed in less than an hour, with a lender representative speaking to you that same day to answer any questions you may have.
The response time for personal loan applications also tends to be faster, with cash-in-hand or in-account sometimes as soon as the same day as your approval. Take advantage of the efficiency personal loans offer when it comes to getting money, fast.
Fixed Monthly Payments
Personal loans are a type of installment loan, which means you can pay them back through fixed monthly payments over time. The exact payment amount is determined by your application and includes factors like your income, credit score, and creditworthiness.
You will know how much you'll have to pay every month up-front, which takes away the stress and worry you may have felt with other forms of credit, such as credit cards.
Instead of draining your savings account to pay for your vacation, take advantage of these small monthly installments which can be paid overtime.
Can Fund Emergency Travel
Sometimes the individual or family trip is not for vacation purposes, but to reach a destination during an unexpected event. Personal loans are safe alternatives to ensure you and your loved ones are together and arrive where you need to be as soon as possible.
Travel Flexibility
Obtaining a personal loan for vacation will give you the option of booking your vacation, your way. You won't have to settle for mediocre locations or excursion options, as you'll have the funds necessary to plan a fun and safe trip for all involved.
This also works well if you see a flash vacation package; you'll be able to secure it upfront with the loan, making sure you don't miss any great deals.
Lower Interest Rates
Vacation loans typically have lower interest rates compared to other types of loans and credit cards. Personal loans are also not known to affect your credit use ratio as much as a credit card would, which is a bonus for anyone who is trying to improve their credit score.
Cons of Personal Loans for Vacation
Taking out a personal loan for vacation may be the best solution, but it also comes with a small ripple effect. Make sure you meet the requirements below for taking out a personal loan for vacation.
Extra Fees
Make sure your lender explains all costs, fees, and penalties up-front before confirming the personal loan. Some hidden fees may include things like prepayment penalties if you pay off your loan off earlier than anticipated. As long as you're aware of all fees, you won't face any unexpected surprises after your relaxing vacation.
Interest
While personal loans may offer lower interest rates than other credit sources, you still must pay some interest. Ask your lender directly or use a personal loan calculator to estimate how much extra you will be repaying in interest.
As a frame of reference, a $5,000 personal vacation loan, taken out at 12% interest over 36 months, will equal an additional $978.58 paid in interest by the time you pay off the loan. While $900 may seem high at first glance, it's much more doable when broken down into the 36 monthly payments – that's only about $25 a month!
Many lenders offer lower interest rates, so be sure to compare your options to better choose a lender with the lowest rate.
Repayment
Taking out a personal loan results in another monthly bill tacked onto your budget when you return from that vacation. Penalties for late payments or defaults can run high, so ensure the loan is one you'll be able to pay off upon returning. As long as the monthly payment matches your available budget, you will be able to pay the loan back without issue.
Luckily, many lenders take a look at your income before disbursing the loan. They will work with you to ensure you choose the monthly repayment amount that works with your budget.
Should You Get a Personal Loan?
A personal loan is a great alternative to draining your savings or accumulating credit card debt while planning a trip. Funds will be deposited into your account quickly and easily, and you'll be able to start your vacation with the assurance that all your expenses are covered without worry.
Before signing, go over your finances and make sure you can repay the loan once you return from the vacation. Consider any other expenses you may face and include this in your decision. Discuss the loan, interest rate, and fees with your lender, as well as your significant other, if relevant.
So long as you meet the requirements and act responsibly when borrowing, personal loans are fully recommended for making your dream family vacation a reality.
How to Get a Personal Loan for Vacation
To obtain your personal loan today, you must follow a few easy steps to secure your funds. Do your due diligence and follow the process below today to finance your vacation tomorrow!
1.     Know What You're Qualified For
To know all of your options, you'll need to check your credit score before applying to different lenders for your personal loan. Online credit service providers, certain banking institutions, and some credit card providers are sources for checking your credit score.
FICO scores at or above 720 will have the most access to personal loans with competitive interest rates. If you find your score to be less than what you thought, consider improving it before taking on any more credit.
2.     Investigate Your Options
Take to the internet to compare different lenders, both online and in your area. Make a few phone calls or submit online inquiries and keep notes on the different personal loan options.
You'll want to note things like the research lenders' overall public rating, loan qualifications, interest rates, terms, and fees.
If you have had positive interactions with your bank or a lender in the past, reach out to them to see if they have any offers for their member base.
3.     Prequalify
Some people may prequalify for a personal loan through a soft credit check. Not all lenders offer this option but if one does, you'll be able to see the interest rate they will qualify you for without affecting your credit score.
This also lets you see your potential interest payments and monthly payment options.
4.     Apply
Different lenders will have different application processes. Some first require you to submit an inquiry form or speak directly with a representative. Others begin by checking to see if you meet their personal loan qualifications before you formally apply for the loan.
Once you reach the formal application process, you'll need to relay some personal information and documentation to your lender. This may include things like proof of income, banking information, etc.
In the final stages of the application process, some lenders will likely ask you to visit one of the lender's branch offices or discuss your documentation over the phone. With SimpleFastLoans our installment loans online are exactly that – online! You can be approved for a loan of up to $3,000 online after filling out our simple online application.
5.     Receive Your Loan
Once approved and finalized, your personal loan will be on its way into your pockets. Most lenders disburse personal loan funds directly into your banking accounts, although others may offer alternative options.
Once cleared, you'll be able to use your loan to set the seal on the vacation you have been looking forward to.
6.     Repay Your Loan
As with any line of credit or loan, you will need to plan for and execute your monthly payments to slowly repay your loan after you obtain it. Take note of your payment's due date and check your access to the lender's online payment page or physical payment stubs.
Autopay is a great way to ensure you always make your monthly payments on time. No matter how you repay, make sure to do so in a timely and responsible manner.
Vacation Loan Combinations
You may have read through this information and decided that a small vacation loan is the best way for you to reach your vacation goals. If so, you may need a complimentary program or plan combined with a personal loan to finance your vacation. You can combine a vacation loan with some of these alternatives to ensure a balanced approach to paying for your vacation today.
Budgeting
While it may sound mundane, budgeting is an excellent way to save for a vacation while partnering with a smaller vacation loan. As one of the most difficult methods of vacation planning, budgeting requires discipline and diligence.
Reduce your spending and increase your savings wherever possible. Do not use money from your rainy-day fund. With the help of a vacation loan, you'll still be able to plan that trip this year without breaking the bank.
Rewards Points
There are countless programs and travel reward credit cards that can help fund your holidays. By responsibly signing up and using these programs over the years, you will accumulate points. These points can be traded in for things like airline miles, stays at a hotel, and even money to go towards car rentals.
Compare the different rewards points programs you qualify for and sign up for one today. While it may take some time to make headway, you'll soon be receiving free assistance towards your next travel. If you pair that up with a smaller vacation loan, you will soon be ready for your family vacation of the year!