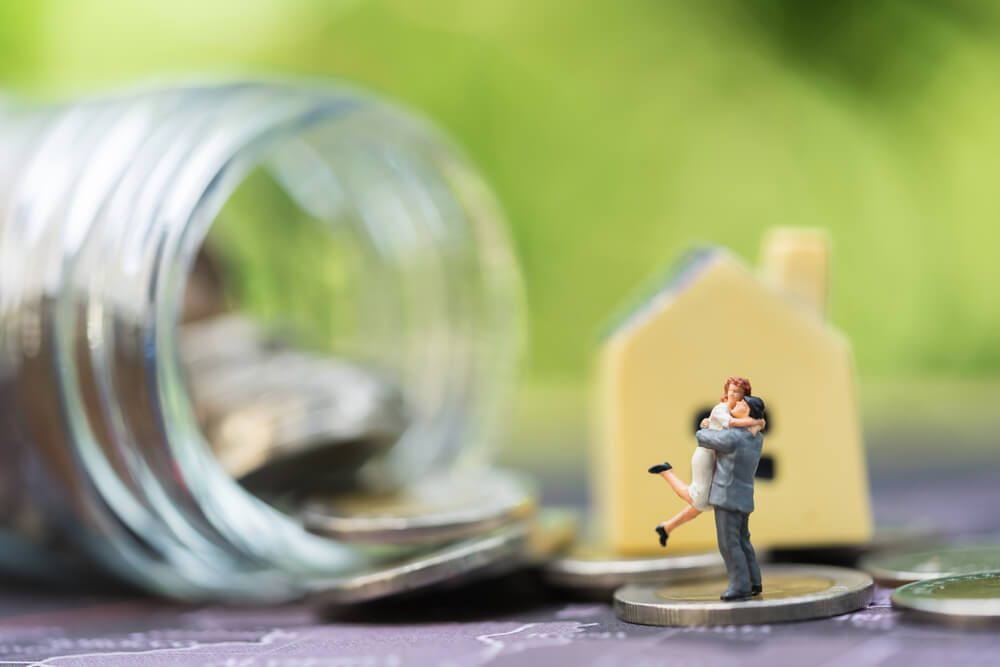 Wedding Loans: How to Finance Your Wedding Day in the 21st Century
According to a survey taken by The Knot , nowadays, couples should expect to pay around $22,500 for an average wedding. That's a lot of money! No wonder some couples choose to go for an installment loan that is going to cover all their wedding expenses.
What are the main things that you should bear in mind when creating a wedding budget? What are the benefits of getting an installment loan for the big day and what tips can you follow to make sure that everything goes to plan?
Here are all the answers.
An Average Breakdown of Wedding Expenses
First things first, you should make a list of all the things that you are going to need to pay for. Below you will find a breakdown of the potential wedding expenses and some percentages based on the industry's averages.
Of course, you can adjust the numbers and you can always choose to leave out some of the things mentioned below if you want.
The reception venue will take around 18% of your budget (approximately $4.000); the food – also 18%; the services of a photographer and videographer – 10% of the budget.
Typically, couples spend around 8% of the sum on each of these categories – drinks, décor and flowers, music.
The wedding planner, wedding rings, transportation, invites, gifts, ceremony, cake, and beauty would require around 2-3% of the budget each.
We have left out the honeymoon budget as some couples are planning on going to the Maldives, while others will be happy with a local camp adventure. But, anyway, this is definitely another wedding expense that you would have to consider.
Unexpected Wedding Expenses
Unfortunately, not a lot of people truly understand what goes into the cost of every category mentioned above. For example, the 'cake' part means that you would have to pay not only for the sugary yumminess, but also for the display table, cake topper, and cutting utensils. You might be asked to pay for the delivery as well.
The 'unexpected' part of the wedding expenses mentioned above usually includes any additional rentals (chairs, tables, etc.), tax and service fees, insurance, cleanup fees, vendor meals, a liquor license (if the venue or the caterer doesn't provide one), delivery fees, and unexpected rentals (like heaters and umbrellas, for example).
Of course, wedding costs will vary a lot and you can always choose to cross out the things that you find to be too 'extra'. But the truth is that…weddings are and always will be expensive unless you decide to not celebrate at all.
Why Is It Important to Have a Wedding Emergency Fund?
Ideally, you would want to have an emergency fund that is at least as big as 5% of your budget.
No matter how well-planned your wedding strategy is, there will always be unexpected or overlooked expenses. And there is nothing worse than having to deal with various emergencies without having the actual money to do so.
Of course, you can try your best to avoid unexpected fees. Double-check your invoices and contracts for taxes and services fees, track every single expense, and ensure you know exactly what is included in the purchases.
Unfortunately, there are some things that are out of your control and having an emergency fund will help you feel much more relaxed on such an important day.
If you totally forgot about setting such a fund aside, an installment loan is one of the options that will help you cover any unexpected costs and the planned things that might sometimes require more than you actually have.
How to Save On Your Wedding Day
Thankfully, there are quite a few useful tips that will help you save a small fortune.
The per-guest reception cost makes up a big chunk of your budget. If you can, try going for a more intimate affair and invite only the closest friends and relatives.
The downside of this option is that you are going to get fewer gifts, so make sure to list the pros and cons.
If you have your wedding on a Friday, you'll be able to save up to 30% of the venue cost. For those who want to go the extra mile, you can have your big day in the middle of the week and during the off-season. By the way, morning weddings are far less expensive as well.
You would have to pay the photographer and videographer around 10% of your wedding budget. That's understandable as the pics and videos are going to last you a lifetime.
But instead of hiring the professionals for a full day, try asking them for their hourly rates. The chances are high that wouldn't need a videographer on hand for 10 hours straight. So, why not hire him for only a few hours (during the ceremony and the beginning of the reception, for example).
A lot of us are tired of traditional four-course sit-down dinners. This is your chance to change things up a bit and save a few thousand bucks along the way. You can go for a buffet or special food stations, so that the guests can pick whatever they want and whenever they feel like it.
Hold the ceremony and reception in one place
Find a venue that can host both the ceremony and the reception. In such a case, you'll be able to save on transportation. You can also try to negotiate the price as it is much more beneficial for the venue to host both parts of your wedding day.
Go for seasonal local florals
Can't imagine a wedding without real flowers? These beauties can get extremely pricey. But the great news is that you can save a lot on flowers even without getting fake ones.
Simply opt for flowers that are in season and that are locally grown. This will help you avoid any shipping costs and the actual price on the flowers that are at the peak of their supply is usually much lower.
It looks like you are going to need plenty of invitations if you are planning a rehearsal dinner, an engagement party, and quite a few other celebrations, apart from the actual wedding. Thankfully, nowadays, you have the option to go completely paperless.
Simply create a special website with all the necessary information and send the link to your guests. The best part is that you can get insanely creative with the design without draining your wallet.
Where to Find the Funds for Your Dream Wedding?
Of course, there are couples that would prefer not to spend all that money on a wedding and would rather tie the knot without any witnesses and then have a mini honeymoon.
But if you are the kind of person who has been dreaming about a beautiful wedding with all the magical moments and romantic traditions, then you should definitely go for it. Ideally, this would be a once-in-a-lifetime experience that you and your guests are going to remember forever. And imagine being able to show the photos and videos from that wonderful day to your kids and grandchildren…
A wedding is essentially a celebration of your love, and it deserves to be perfect. By the way, even intimate gatherings with a small budget can turn into fabulous memories.
But as much as we would love to state that money doesn't really matter, the truth is that it certainly does. The chances are high that no matter how big or small your wedding will be, you would still have to save for it.
And, in the absolute majority of cases, you are going to go over your initial budget. There are plenty of tiny things that are going to add up throughout the whole preparation process. So, you will end up spending more than you have anticipated.
What Is an Installment Loan?
If you need to expand your budget in the shortest timeframe or you simply don't want to be saving up for months (or even years) to have a wedding that you want, then you can consider getting an installment loan.
These loans include a wide range of different options that are repaid with regularly scheduled payments (installments).
There is no such thing as a 'wedding loan', but you can certainly get a personal loan to fund the wedding of your dreams (it is usually anywhere between $1.000 and $50.000).
You will be provided with a fixed amount of money that must be repaid on a regular basis. Each payment includes the actual repayment portion of the amount borrowed and the payment of interest.
The Benefits of Getting an Installment Loan for Your Wedding
Getting a personal loan for a wedding has a few important pros that might outweigh all the cons for you.
An Installment Loan Is Easy to Get
In a lot of cases, you will be able to apply for a loan online from the comfort of your own home. Of course, you would have to get your financial documents in order, but the actual process of applying for a loan is pretty much straightforward. And the best news is that you will be deposited the amount you qualify for directly into your bank account.
You Can Get Your Money in the Shortest Timeframe
You can find lenders that will review your application and documents and deposit the loan amount in only a day. Sometimes, the process might take a few days, but that's still incredibly fast!
Loans Have Better Interest Rates than Credit Cards
If you are planning on spending the money that you don't have, it might be a better decision to go for a personal loan rather than a credit card. This applies to everyone who has a strong credit history and a good credit score.
You Will Improve Your Credit Score
A high credit score will make it easier for you to get different loans in the future (for a car, a house, etc.) and keep the interest rates as low as possible. So, if you are a couple that wants to improve their credit score, then getting a personal loan for your wedding might be a great opportunity to do so.
Warning! If you have an existing loan, the bank might not give you a new one for the desired amount. In some cases, the bank can deny the application.
You May Not Have to Pay Any Interest at All
Try to go for a loan that allows you to pay it off early without penalty fees. In such a case, you can use the money that you have been gifted to pay off the loan. You wouldn't have to pay practically any interest at all and you will end up with a dream wedding and an improved credit score.
How to Apply for an Installment Loan for Wedding Expenses?
In the majority of cases, applying for a loan is extremely simple. All you would have to do is follow these steps:
Check your credit score
If you have an amazing score, you will be able to get lower rates (and just have higher chances of being approved). So, if you still have quite some time until the wedding, try boosting your credit score.
You can get a free credit report here. Checking the credit score doesn't affect it and, in fact, is a responsible thing to do as you'll have an idea of what the lenders might 'think' of you.
Find the right lender
Nowadays, you can find plenty of available lenders. However, not all of them are made the same.
Go for a reputable company with great reviews. Also, make sure to compare interest rates and all the terms. A good lender has to be willing to help you and would be happy to provide you with an offer that is perfect for your specific case.
Get prequalified
In order to be able to compare the offers, you would have to fill out a short form and get prequalified (a lot of lenders offer such an opportunity).
Don't worry, this process will not impact your credit score, but you will get an idea of what every lender can offer you to then make a weighted decision.
By the way, with Simple Fast Loans, you will be able to complete the process online.
Apply for an installment loan
Once you have found the right lender, you will get to apply for the actual loan. Thankfully, the whole process won't take you too long. A lot of companies are able to deposit funds in a matter of days or even 24 hours, in some cases.
Tips on Utilizing an Installment Loan for Wedding Expenses
Let's imagine that you have qualified for an installment loan, and you got a big amount of money. The feeling is amazing, but it can also be overwhelming.
If you never had this cash in the first place, you would have tried to save up on everything. But now that you have the money, you can book the band that you wanted, get the best wedding planner, and go for expensive rings.
A loan can make you go overboard even with the most unnecessary things. So, try to keep it cool, because the fact that you have a lot of money doesn't mean that you have to spend all of it.
Make the decision together with your partner
Starting out a marriage in debt might not be the right decision for a lot of couples. To make things a bit easier for both of you, talk through all the finance-related questions in advance.
Moreover, the decision to get a loan has to be made together. If one of the partners is against borrowing money, then you shouldn't do it.
Come up with a repayment plan
Answer a few important questions beforehand. For example, do you want to repay the loan from the money that has been gifted on your wedding day? Or do you want to use that fund to go on an awesome honeymoon?
Are you planning on getting another loan? If yes, then getting a loan to buy a house would have to wait, until you manage to repay the existing one.
Finally, a loan would require you to rearrange your family budget, so that you are able to make the payments on time.
Ensure your financials are in order
Keep your financial documents under control. In such a case, you wouldn't have to spend days or even months getting the papers you need before applying for an installment loan. And that's the last thing that you want when all of your vendors are waiting for their upfront deposits, right?
To Sum Up
Now you know how to utilize an installment loan for wedding expenses.
A loan can help you craft the day of your dreams, but, at the same time, it can also become a family burden for the next few years. To avoid that, follow the tips that we have mentioned above and…live happily ever after!